We are seeking content from ALL creators who desire to advance and uplift women. Currently 99% of our featured podcasts, original podcasts, member podcasts happen to be women/female-led from all over the world in English, Spanish, and Chinese. Check out a link to our directory on SHEQONOMI to explore more. Feel free to suggest new categories in the submission typeform below which should take 1 minute to fill out! We look forward to listening to what you have to share!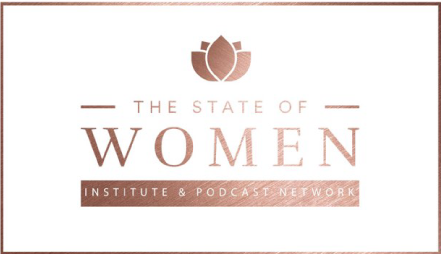 Welcome to The State of Women Institute & Podcast Network. We are an impact focused global community that is bringing educational content and podcasts created by women to the 'bottom billion' and a demographic that has never had access.
 Join if you want to contribute to our mission in amplifying women's voices.


 Be included in our digital library which is educational content aimed at aspiring female students and women around the world.


 Become part of a global podcast movement for young women and girls.


 Join if you want your podcast and content on the #1 podcast app and only women led podcast app on the KaiOS platform. We're currently reaching 100,000+ listeners across APAC, EMEA, and LATAM.


 Distribution from our multi-platform partnership with Reliance Jio which provides 150,000,000 JioPhone users to listen, learn, and earn digital assets and rewards.


 Membership to The Podcast Academy.
Click on purchase to join!
About
Anu Bhardwaj, SHEQONOMI
SHEQONOMI is on a mission to bring women's voices to the main stage, and that alone has the power to change the trajectory of our entire planet. SHEQONOMI is a highly unique podcast platform – built organically by millennial women to serve 2 billion women globally, where content creation and listening are rewarded. Founder Anu Bhardwaj is a serial social entrepreneur and philanthropist, listed on the 2020 Inc Magazine Global Top 100 Female Founders and one of 7 female Award Recipients of the 2020 Transform Fund from the Islamic Development Bank (from a pool of 5,000 applicants worldwide). Anu also co-chaired the 2nd Annual Blockchain for Impact Summit at the United Nations HQ in 2019, and is the founder of Women Investing in Women Digital with over 1M international followers and The State of Women Institute. Join unstoppable forces and powerful voices with your global sisterhood by subscribing now.
DEDICATED TO AMPLIFYING THE VOICES OF WOMEN AND GIRLS THROUGH DIGITAL MEDIA
BECAUSE OUR VOICES MATTER.
THE STATE OF WOMEN and SHEQONOMI are proud to feature podcasters, women entrepreneurs, investors, and innovators, and changemakers at our Global Virtual "Amplifying Her Voice" Summit Series and on our new women-led, women-focused podcast app on Android, iOS, and KaiOS. We are grateful to be collaborating with leading corporations, non-profits, educational institutions, industry professionals and academics from different walks of life who serve as role models for women and girls around the globe since our inception on March 8th, 2018.
SUBSCRIBE to our newsletter to learn more about our upcoming Summits, women podcasters who are making impact with every download, and featured members who share our common mission of women's economic empowerment that remains the heart and soul of THE STATE OF WOMEN & SHEQONOMI.
The State of Women is a U.S. 501(c)(3) nonprofit organization.

The State of Women documents and highlights stories of women and girls who inspire every generation, in all areas and around the world.

We provide community, conversation, and connection through podcasts, videos, social media, written content, and more. Our SHEQONOMI app is freely accessible on Android, iOS, and KaiOS to everyone around the globe—regardless of where they live, their education, or the assets they control.

We acknowledge leading women in technology, finance, podcasting and more through our features, websites, social media, and our trailblazing SHEQONOMI app.

We serve as a connection hub for podcasters and mentors to reach out, and a professional development tool for those newer to their fields to learn from the wisdom of experts, mentors, and industry leaders.

We honor women regardless of personal background or identity and cover issues that impact any woman or person assigned female at birth.

On The State Of Women platform and through Amplifying Her Voice, our global summit conference series, we nurture a conversation that works to ensure everyone is truly heard, seen, understood, empowered—and amplified.
The State of Women, together with SHEQONOMI; is a catalyst for connection, a center for conversation, and an avenue for amplifying the voices of women from around the world—uplifting and empowering us all. Because our voices matter.

Women's voices are often missing or underrepresented while decisions are made affecting their health, financial wellbeing, economic security, and basic gender equity. 'Amplifying Her Voice' global summit series brings women from all over the world together to discuss, connect, network, and come together to listen & learn about a wide range of global topics. Since our first event March 8 – 10, we've had 3,000 attendees, 550+ speakers, from 125+ countries.
START
Ready to launch your own podcast? You are in the absolute right place!